Services Offered by Chiropractors Around Me
Life in Motion Chiropractic and Wellness is proud to provide our patients with the finest primary spine care. Our Doctors of Chiropractic are also board certified physiotherapists who combine spinal manipulation with soft tissue techniques, therapeutic exercise, and postural/ergonomic instruction along with passive modalities such as thermo/cryo therapy, electrotherapy, computer aided spinal traction, and sports taping. Outlined below are the various services we offer in our office.
The doctors at Life in Motion Chiropractic and Wellness are healthcare professionals providing non-surgical treatment of spine related disorders and musculoskeletal pain. Clinical studies have concluded that chiropractic care near me is effective for the treatment of

acute, sub-acute, and chronic lower back pain, migraine and cervicogenic headache, several extremity joint conditions, and acute/sub-acute neck pain

.1
Research has also shown that health maintenance care provided by chiropractors for non-specific chronic low back pain upon conclusion of the initial course of manual therapy decreased future disability reoccurrence.2 3
(1) Bronfort, Gert, Mitchell Haas, Roni Evans, Brent Leiniger, and John Triano. "Effectiveness of Manual Therapies: The UK Evidence Report." Chiropractic & Osteopathy 18.1 (2010): 3. Web.
(2)Cifuentes, Manuel, Joanna Willetts, and Radoslaw Wasiak. "Health Maintenance Care in Work-Related Low Back Pain and Its Association With Disability Recurrence." Journal of Occupational and Environmental Medicine 53.4 (2011): 396-404. Web.
(3)

Senna, MK, Machaly SA, "Does maintained spinal manipulation therapy for chronic nonspecific low back pain result in better long-term outcome?" Spine 36(18):1427-1437 (2011).
Click Image to Enlarge

Pregnancy & Chiropractic Care Near Me

[Published on June 16, 2014]

For most women being pregnant is the experience of a lifetime but when it comes to prenatal chiropractic near me many don't know that chiropractors near me can help with the aches and pains.

It is every woman's dream to experience natural childbirth that is devoid of extraneous interventions. Many women don't understand that epidurals, forceps, and vacuums are traumatic not only for the mother, but for the baby as well and are unfortunately used on a regular basis during the birthing process. Obviously there are cases in which such interventions are necessary but they should not become part of the standard operating procedure.
Learn about the benefits of

prenatal chiropractic near me

☜

HERE
According to a report from the U.S. Centers for Disease Control and Prevention, approximately 3% of children have been treated with chiropractic or osteopathic manipulation.
Learn about Safety and Effectiveness of Pediatric Chiropractic Care Near Me

☜

HERE
The birthing process can cause

muscle strain and osseous misalignments

not only for the mother but for the infant as well. Treating a child shortly after birth as well as throughout their life helps the body to maximize nerve function, increase immune function, and optimizes overall joint mechanics.
Learn more about chiropractic care near me for kids

☜

HERE
Flexion-distraction technique
has become the most widely used approach to treating

pinched nerve symptoms, bulging disc symptoms, as well as symptoms of sciatica

. Flexion-distraction involves the use of a specialized table that gently distracts or stretches the spine and allows the chiropractor to isolate the area of disc involvement while slightly flexing the spine in a pumping rhythm.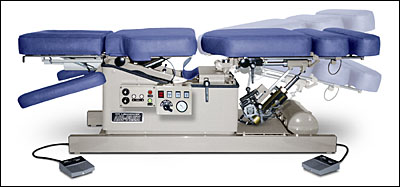 To learn more about

Flexion-Distraction Therapy

click on the image above
Click Image to Enlarge

Spinal Decompression Traction

[Published on Nov 22, 2013]

If you experience back pain and/or leg pain on a regular basis due to a bulging or herniated disc you can find relief through Spine Traction. To date, this modality has been over 86% successful in dealing with chronic, debilitating back pain.

Click Image to Enlarge
Spinal Traction Therapy is an FDA-registered method of relieving pain and disability by correcting damaged spinal discs and reversing nerve degradation. Following examination by the doctor, a computer-controlled device gently distracts or stretches your spinal discs. The decompression of the discs lets oxygen and blood flow into the affected areas to speed up healing and relieve pain, allowing the specific discs that are causing your pain to be targeted for correction.
Learn more about

bulging disc treatment

☜

HERE
Our approach to

myofascial pain

is a two-fold approach:

Lengthening of restricted fascia

These restrictions and/or contractions decrease blood flow within the affected area(s) where the pain is experienced. Without treatment, these restrictions/contractions will exacerbate thus accentuating the pain, decreasing overall range of motion, and increasing tissue ischemia.
Learn more about Myofascial Release & Trigger Point Therapy

☜

HERE
Active Isolated Stretching (AIS) with Aaron Mattes

[Published on Oct 07,2010]

Learn about Active Isolated Stretching from the creator, Aaron Mattes. An Oakworks Educational Series Video.

Learn more about Active Isolated Stretching

☜

HERE
The goal of spinal manipulative therapy is the correction of joint fixation and its accompanying consequences. The expected result of such treatment is the reduction of symptoms and improvement of function upon correction of this discrete lesion. However, we believe that patient care must be approached from a broader, more holistic context which includes the overall flexibility, strength and integration of movement of the spine and the musculoskeletal system.
Learn more about our approach to Active Care Rehabilitation

☜

HERE
Life in Motion Chiropractic and Wellness offers a balanced approach to the treatment and rehabilitation of

sports injuries

. We incorporate the best of both worlds, joint manipulation to return spinal segments to their normal mobility and physiotherapeutic techniques/modalities to aid the supportive tissues (muscles, tendons, & ligaments).
We believe the only way injured areas can return to normal function is by having proper coordination between the joints and the soft tissues of the body. A healthy body is one where both of these aspects are functioning properly and symbiotically.
Learn more about our Treatment of Sports Injury

☜

HERE
A rehabilitative taping technique designed to enable the natural healing process of the body and subsequently support the muscles and stabilize the joints. This unique modality does not restrict range of motion and provides extended soft tissue manipulation that extends the effects of manual therapy preformed during your office visit.
Learn more about

Kinesio Taping Techniques

☜

HERE
Are you ready to make a lifestyle change that can improve your overall health? Do you have a medical condition that you feel can be managed with a better diet? Or, do you simply want to drop a few pounds to feel better? Then you are in the right place!
Upon learning the reasons for your desired nutritional change(s), Dr. Fralick will design a plan to help you achieve your goals and objectives.
Learn more about Nutritional Counseling

☜

HERE